Contact us
0844 870 0000 (24hrs)

+44 (0)121 472 6688

Monday - Friday 9am-5.30pm

---

General enquiries
Customer & client support

New events

Promotion & marketing

---

Important info

The above email addresses are not always monitored at weekends so if your enquiry is urgent, please call our 24hr number 0844 870 0000

If you are returning tickets to us, then we highly recommend that you use special delivery

Calls cost up to 7p per minute plus your phone company's access charge

---

Headquarters

TheTicketSellers

First floor

32 Frederick Street

Jewellery Quarter

Birmingham

B1 3HH

---

Find us on map

---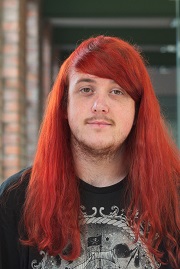 Benjamin Dean
Software Engineer
What would you do with one wish? World Peace
Favourite food / meal? Pizza
How would you change the world? Turn everyone into cats
Favourite day of the week and why? Sunday, because I can sleep forever and then spend the rest of my day doing very little.
Who is your hero? Batwoman
How could you be greener? Recycle all the cans of Monster that I drink!
When you're not working, where would we find you and what would you be doing? Sleeping, playing video games, or annoying my friends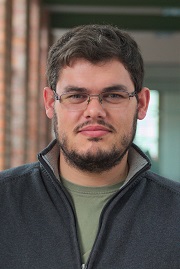 Constantino Antunes
Software Engineer
What would you do with one wish? Ask to have infinite wishes
Favourite food / meal? Roast chicken
How would you change the world? Eliminate the need for passwords
Favourite day of the week and why? All, just because
Who is your hero? My Mom
How could you be greener? Do composting
When you're not working, where would we find you and what would you be doing? You can't find me, and its classified :)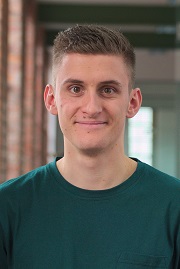 Dan Johnson
Visual Image Developer
What would you do with one wish? Delete all Pop music from existence
Favourite food / meal? Egg Fried Rice
How would you change the world? Make sure that Drake, Nikki Minaj and Justin Bieber didn't take up music as a career
Favourite day of the week and why? Thursday - Suki10C on a Thursday night used to be the best night out
Who is your hero? Difficult question: James Zabiela or Dr Syntax or Childish Gambino
How could you be greener? Turn my heating down a little (I hate the cold)
When you're not working, where would we find you and what would you be doing? In my living room, mixing music on my decks!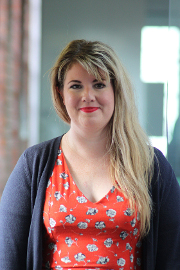 Gemma Hotchkiss
Customer Relations Support
What would you do with one wish? Calorie free cake
Favourite food / meal? Cake
How would you change the world? More cake
Favourite day of the week and why? Saturday because there's still one more lie in left before Monday
Who is your hero? Mr Kipling
How could you be greener? By making wiser and more sustainable fashion choices, cotton is one of the biggest pollutants on the planet so we all need to try harder to make do and mend!
When you're not working, where would we find you and what would you be doing? In the kitchen. Baking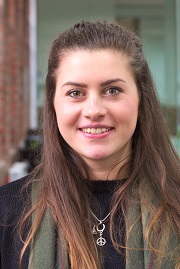 Harriet Lahiff
Customer Relations Support
What would you do with one wish? At this current moment secure a 1st in my degree (minus the work)
Favourite food / meal? Beetroot by day Beetroot by night
How would you change the world? I would most likely remove organisational element to religions
Favourite day of the week and why? Sunday, ultimate chill day and the one I'm least likely to be at Uni or working!
Who is your hero? My hero's are Fleetwood mac for being the most incestuous, drug fuelled OAPs on the planet
How could you be greener? I could be greener by cutting out fish and going full veggie
When you're not working, where would we find you and what would you be doing? Most likely to be at the library studying unfortunately, somewhere in Digbeth having a boogie, or Netflix and chilling for one

Jimmy Hewson
Director
What would you do with one wish? I would wish that Aston Villa didn't get relegated this season :(
Favourite food / meal? My wife's 'special pasta dish' - I can and have eaten enough for 3 people in one sitting!
How would you change the world? I'd make it square
Favourite day of the week and why? Monday because it's the start of a new week and that's when my creative juices really start to flow
Who is your hero? Eadweard Muybridge as he invented movies and everyone knows I love movies
How could you be greener? I'd grow my own food
When you're not working, where would we find you and what would you be doing? You will find me at home with my family, enjoying life. There is no better place to be :)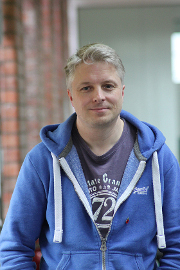 Jonathan Smith
Lead Software Engineer
What would you do with one wish? Bank it for when I needed it, if possible
Favourite food / meal? Sunday roast
How would you change the world? Remove all the weapons
Favourite day of the week and why? Sunday (see favourite meal)
Who is your hero? Albert Einstein
How could you be greener? I've been meaning to start a vegetable patch for the last 5 years...
When you're not working, where would we find you and what would you be doing? At home playing video games with my daughter, probably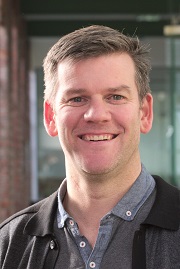 Kevin Jones
Quality Assurance and Technical Operations Manager
What would you do with one wish? Use it on my children
Favourite food / meal? Chocolate, especially after Easter
How would you change the world? Make stopping suddenly when you're walking in a crowded place illegal
Favourite day of the week and why? Saturday - still got another day off
Who is your hero? Demetrius Johnson from Buffalo
How could you be greener? Buy less stuff to start with
When you're not working, where would we find you and what would you be doing? On the sofa, reading Hacker News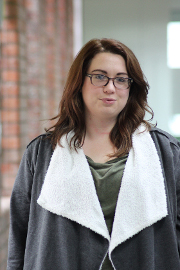 Lauren Wilcock
Account Manager
What would you do with one wish? Unlimited free travel to anywhere in the world
Favourite food / meal? Macaroni Cheese, but unfortunately it's not on Slimming World :(
How would you change the world? Remove the UN from the clasp of Western politics so it is actually neutral rather than a puppet of the US and its donors. Stop all the wealth being held by an elite few while others can barely meet basic needs. Make big corporations actually pay their taxes so we have money to ensure the NHS and benefits can continue with sufficient funding
Favourite day of the week and why? Honestly can't say that I have ever had a favourite day of the week, but if I had to have one Hump Day (Wednesday)
Who is your hero? Dobby!!! Or Ron Weasley! NO WAIT DUMBLEDORE.... *clipped message due to endless Harry Potter references*
How could you be greener? I used to live in Africa where I was a lot more frugal with water and energy as it just wasn't available, I need to reflect that experience here in England and not waste as much
When you're not working, where would we find you and what would you be doing? Most likely I am in the cinema, watching a film obviously! #UnlimitedCard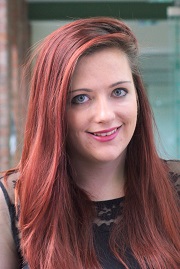 Libby Hewitt
Customer Relations Support
What would you do with one wish? Increase world resources to extend the life of mankind and our planet!
Favourite food / meal? Carbonara
How would you change the world? I'd add a dash of compassion to the Sandman's dream dust
Favourite day of the week and why? Sunday. Sunday is a sweatpants day
Who is your hero? We need to look less to our heroes and more to ourselves to be heroic
How could you be greener? Patrol my boyfriend to stop him throwing away recyclables!
When you're not working, where would we find you and what would you be doing? Hiding under the duvet from the tickle monster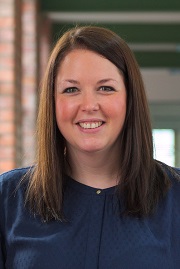 Liz Cobley
Head of Operations
What would you do with one wish? Make wine calorie free
Favourite food / meal? Melanzane parmigiana
How would you change the world? Make the poor richer and rich poorer
Favourite day of the week and why? Saturday - Coffee and breakfast in bed with my family!
Who is your hero? My grandpa, he brought a community together through his love of brass bands, and his legacy is still living on through the youth brass band scheme
How could you be greener? I like to think I am already an eco warrior but could do more make do and mend projects rather than buying new things
When you're not working, where would we find you and what would you be doing? At home either in the kitchen cooking or on my sewing machine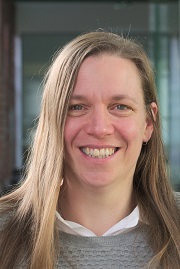 Mo Jones
Director
What would you do with one wish? Sorry, would be a limitless bank account; imagine how much good you could do with all that money!
Favourite food / meal? A good old Sunday roast (beef)
How would you change the world? That's a heavy question! I guess sort out climate change as that's going to get us all in the end
Favourite day of the week and why? Sunday. I'm glad they lost the vote to extend opening hours. Being forced to have some relaxing time on a Sunday afternoon is a good thing
Who is your hero? I can't say his name as he'd be embarrassed, but someone in business who's an inspiration (and no, it's not you Jimmy!)
How could you be greener? I really need to get on my bike more
When you're not working, where would we find you and what would you be doing? I might be getting on a bit, but I still love a good old party. Even better if I've got a set and the system is awesome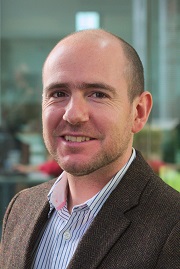 Phil Hayes
Technical Director
What would you do with one wish? So many possibilities but only one wish ... We all know that the rules regarding wishes don't allow wishing for more wishes, so I would take my inspiration from Aladdin and wish for the genie's freedom
Favourite food / meal? I'm a soylent convert
How would you change the world? Balanced resource distribution
Favourite day of the week and why? I like Saturdays because it means pancakes for breakfast and having a lazy morning with my family
Who is your hero? I'm torn between Jimmy and Mo, but I'm going to say Liz
How could you be greener? I'm not sure it's possible!
When you're not working, where would we find you and what would you be doing? Enjoying the drizzle in my allotment

Richard Freeman
Software Engineer
What would you do with one wish? Wish for a million wishes
Favourite food / meal? chicken
How would you change the world? Give everyone superpowers
Favourite day of the week and why? Saturday - start of the weekend
Who is your hero? Spiderman
How could you be greener? buy an electric car
When you're not working, where would we find you and what would you be doing? At home playing video games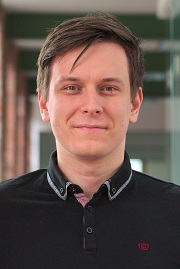 Sam Wright
Customer Relations Manager
What would you do with one wish? Rule the world under the iron fist of communism
Favourite food / meal? Can't beat a good burger!
How would you change the world? Time travel
Favourite day of the week and why? Probably the most difficult question to answer. Thursday
Who is your hero? David Bowie
How could you be greener? I have a bad habit of leaving my computer running over night, so I shall endeavour to turn it off instead of wasting energy
When you're not working, where would we find you and what would you be doing? In my lounge, producing radio shows, club mixes, and music